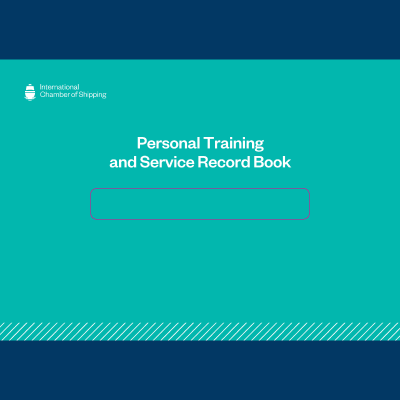 Personal Training and Service Record Book
• Edition : Second       • Publication Date : 01 Aug 2017
The second edition of this Record Book takes into account the entry into force of the ILO MLC and the STCW 2010 amendments. This Record Book will assist companies maintain documentation and data relevant to seafarers employed on their ships, including their experience, training, medical fitness and competency in assigned duties. Seafarers can use the book to keep their own personal records of seagoing service, experience, qualifications and participation in drills and exercises on board ships.
The Personal Training and Service Record Book enables qualified seafarers to maintain records of all STCW related training, and demonstrate competence to Port State Control inspectors or when seeking to re-validate qualifications.
This Record Book is intended to help all qualified seafarers maintain a comprehensive record of their seagoing service, ongoing training and other relevant information. It will also help companies ensure that documentation and data concerning seafarers employed on their ships is properly maintained and readily accessible, in order to demonstrate compliance with the IMO STCW Convention.
This Record Book also enables seafarers to maintain a record of their participation in drills and exercises on board ships. It may also be used by companies as part of their Safety Management System (SMS) as required under the ISM Code, in particular for the identification and recording of any training, drills and exercises conducted to support the SMS. It provides an additional record for seafarers and companies in the event of Port State Control inspections, and may serve as evidence of continuing professional competence when seeking to revalidate STCW certificates.
This second edition takes full account of the 2010 amendments to the STCW Convention and the entry into force of the ILO MLC. It also includes a section to record participation in drills and exercises on safety, security and pollution prevention (previously provided as a supplementary book in the first edition).
About ICS
International Chamber of Shipping publications promote and support shipping industry best practices and provide guidance across all key sectors and trades of the maritime industry. Rigorous in development, and regularly used and recommended by ship operators globally, ICS publications are an important complement to international regulations and are essential for every maritime bookcase.
You can expect only the most relevant and up-to-date information from ICS publications, on a range of subjects including maritime safety, security and environmental protection. Many of the ICS industry guides are required reading by companies and seafarers involved in maritime operations.
The International Chamber of Shipping (ICS) is the global trade association for shipowners and operators, representing the world's national shipowner associations and over 80% of the world merchant fleet. Concerned with all regulatory, operational, legal issues and employment affairs, ICS has members from around 40 countries.